1.What material is polylactic acid (PLA)?
Polylactic acid (PLA) is a bio-based and biodegradable polymer made from annually renewable resources. Polylactic acid is a thermoplastic aliphatic polyester. The lactic acid or lactide required for the production of polylactic acid can be obtained by fermentation, dehydration and purification of renewable resources. Polylactic acid generally has good mechanical properties and processing properties, and polylactic acid products can be quickly degraded in various ways after being discarded, and are truly pollution-free.
2.What does bioplastic mean?
Environmental protection


Bioplastics made from annually renewable biomass reduce our carbon footprint and reduce our reliance on fossil resources. They also offer a variety of scrapping options.
Positive economic benefits
Consumers are becoming more aware of their environmental benefits and are increasingly favoring greener plastics.
3.Why Choose Polylactic Acid (PLA)?
Bio-based PLA resin with multiple end-of-life options is made from renewable resources and is 100% bio-based according to EN16785-1. At the end of its useful life, polylactic acid (PLA) applications can be recycled mechanically or chemically. Polylactic acid (PLA) is also compostable according to EN13432. Compostable applications such as bin liners help divert valuable organic waste from landfills.
Efficient use of raw materials
PLA is a highly efficient plastic: it takes only 1.6 kg of sugar to make 1 kg of polylactic acid (PLA). Other types of bioplastics may require more natural resources to produce the same amount of final product.
Can be used on an industrial scale
PLA is commercially available on an industrial scale from several large factories around the world.
Proven Application
Commercial products made from PLA can already be found in a wide range of mature markets. Whether you are interested in molded parts, films, foams, 3D printing or fibers, you can turn to us for application development support.
4.Raw material classification
· High temperature PLA (CPLA): for demanding applications
· Standard PLA: for general purpose applications
· Low heat PLA: often used as a sealant
· PDLA: used as a nucleating agent or to make all-stereocomplexes.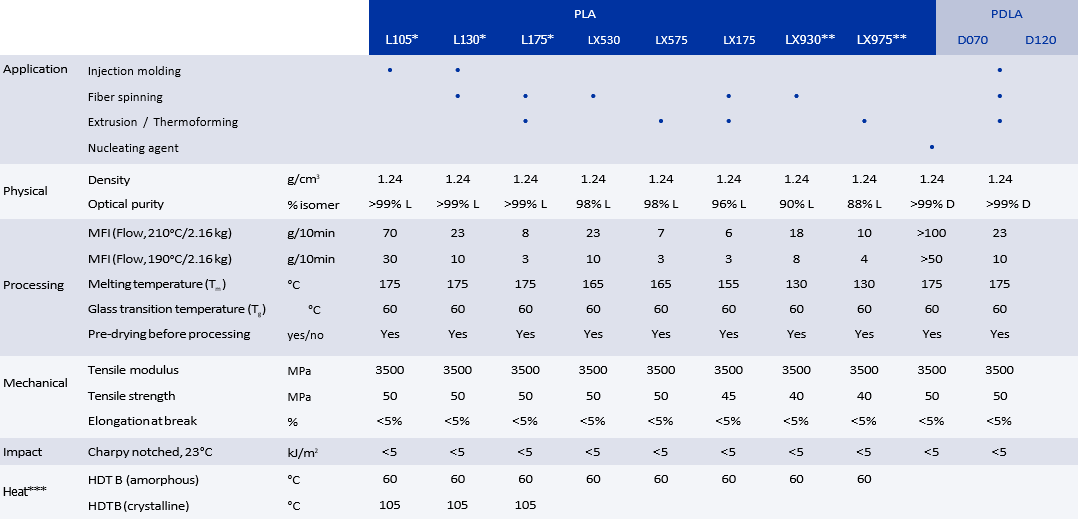 5.Certifications of PLA material and finished products
•Approved for use in food contact applications in EU (EC No. 10/2011), USA (FDA 21 CFR) and China (GB 9685-2016),
•Compliant with EN13432 and ASTM D6400 standards for industrial composting
•Biobased content of 100% according to EN16785-1 and ASTM D6866
•REACH Certification
•Reduced carbon footprint - peer-reviewed LCA study available.
•Made from crops.

6.What are the main applications of CPLA?
1. Packaging & disposables
Yogurt pots, coffee cups & lids, disposable service ware.
•Transparent
•Compostable
•Biobased
•Recyclable
2. Automotive
For interiors & under-the-hood parts.
•High heat resistance
•Durable
•Hydrolytic stability
3. 3D printing & consumer products
Injection-molded casings & housings.
•High heat resistance
•Excellent surface appearance
•Durable
•Good impact resistance
4. Fibers & non-wovens
Fibers for apparel, wipes, diapers, and technical fibers & filters.
•High heat resistance
•Good breathability
•Soft & tactile feel
•Biodegradable/compostable